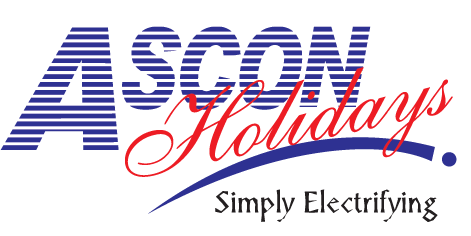 USA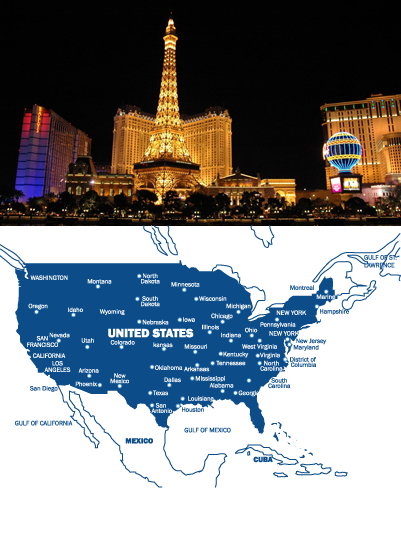 Not for nothing is the United States of America called the land of dreams. It has given flight to millions of immigrants who exited far away shores of Europe in search of dreams, hopes and aspirations in the 18th,19th and early 20th centuries. Even today, thousands of legal and illegal immigrants breast the finish line either on the East coast or the West.
Colossal and staggeringly diverse, America harbours an astounding collection of natural and cultural wonders, from teeming big lights and big cities to mountains, plains and forests covering vast swaths of the continent. America is the birthplace of Los Angeles (LA), Las Vegas, Chicago, Miami, Boston and New York City – each a brimming metropolis whose name alone conjures up a million different notions of culture, cuisine and entertainment. Dive in deeper, and the American quilt unfurls in all its surprising variety - the eclectic music scene of Austin, the easy-going charms of antebellum Savannah, the eco-consciousness of free-spirited Portland, the magnificent waterfront of San Francisco and the captivating old quarters of New Orleans, rising up from its waterlogged ashes.
This is a country of road trips and great open skies, where four million miles of highways lead past red-rock deserts, below towering mountain peaks, and across fertile wheat fields that roll off toward the horizon. The world's third-largest nation has made tremendous contributions to the arts. Cities like Chicago and New York have become veritable drawing boards for the great architects of the modern era. Musically speaking, America has few peers on the world stage. From the soulful blues born in the Mississippi Delta to the bluegrass of Appalachia and Detroit's Motown sound, plus jazz, funk, hip-hop, country and rock and roll – America has invented sounds that are integral to modern music.
SPARKLING AMERICAN EAST COAST - 5 NIGHTS / 6 DAYS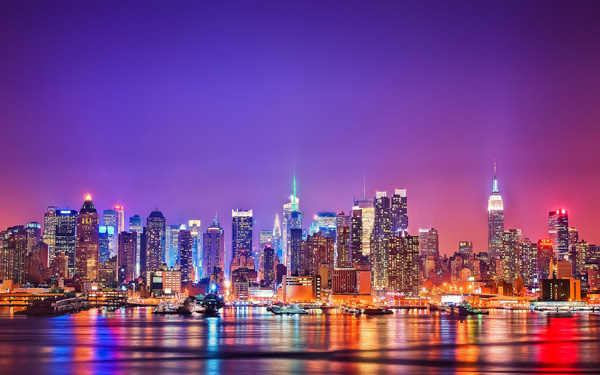 NEW YORK
On arrival at John of Kennedy International Airport, you'll be transferred to your hotel. After which you will spend rest of the day at leisure. Overnight at hotel.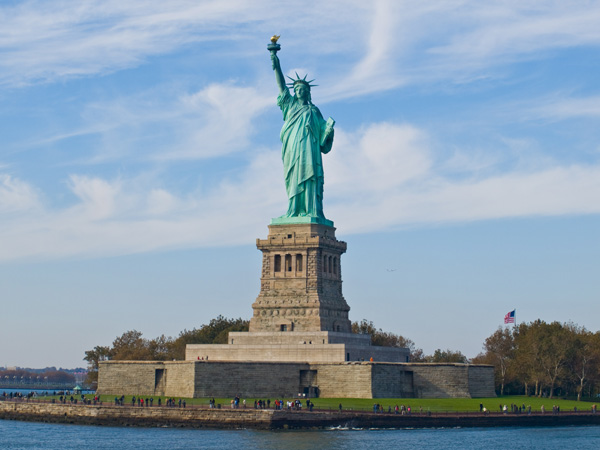 NEW YORK
After breakfast, you'll be accompanied by a professional tour guide where you'll see all of Manhattan - Uptown to Downtown, the new Times Square, Madison Square Garden, the Flatiron building, Greenwich Village, Soho, Little Italy and Battery Park. At Battery Park, you will board a boat and go on a cruise for close-up views of the Statue of Liberty, Ellis Island and the Brooklyn Bridge. After taking in some spectacular sights, you'll return to Battery Park and resume your tour that will take you to Central Park, the Cathedral of St. John the Divine, Grant's Tomb, Harlem, The Museum Mile, Fifth Avenue, Rockefeller Center and more. Overnight at hotel.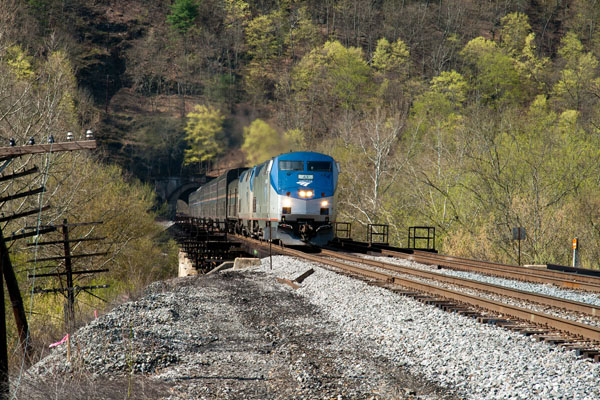 NEW YORK/WASHINGTON
Post breakfast, you will check out of your hotel and proceed to Penn Station to board an Amtrak Train to Washington DC, the capital of United Sates of America. On arrival proceed to hotel, relax, unwind and spend rest of the day at leisure.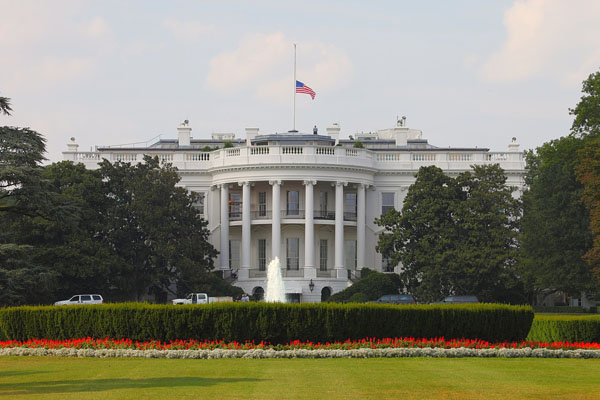 WASHINGTON DC
After breakfast proceed on a full day City tour of Washington City. Visit the newly renovated Ford´s Theatre and experience a remarkable collection of historic artifacts and whilst you are there get to understand the Civil War that of the 1860s. Thereafter, visit the Capitol building, one of the most beautiful buildings in the world. Don´t forget your camera for a photo stop at the White House (south lawn) – You might even see the President! We will also visit the White House Visitor Center, where a plethora of information about past and present Presidents is displayed.
Post lunch, head to the new World War II Memorial to that pays tribute to the soldiers who died for America. Enjoy its beautiful structure and the wonderful water works that make this a memorial to remember. Spend time visiting the world famous Smithsonian Museums. You wouldn't want to miss the Air and Space Museum or the newly renovated American History Museum. After this sojourn visit the FBI Building, Federal Triangle, Ellipse, Tidal Basin, National Archives, Washington Monument, House and Senate Office Building, U.S. Botanical Gardens, National Gallery of Art, U.S. Navy Memorial and Grant Memorial. Spend rest of the evening at leisure. Overnight at hotel.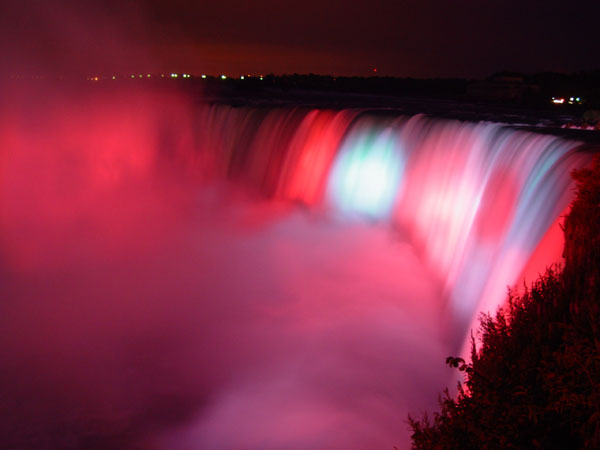 WASHINGTON DC/NIAGARA FALLS (USA)
After breakfast, you'll checkout of your hotel from where you'll be transferred to the airport for your onward flight to Buffalo. On arrival, you'll be transferred to Niagara Falls (USA). Spend rest of the day at leisure and in the evening take in the magnificent illumination of the Niagara Falls. Overnight at hotel.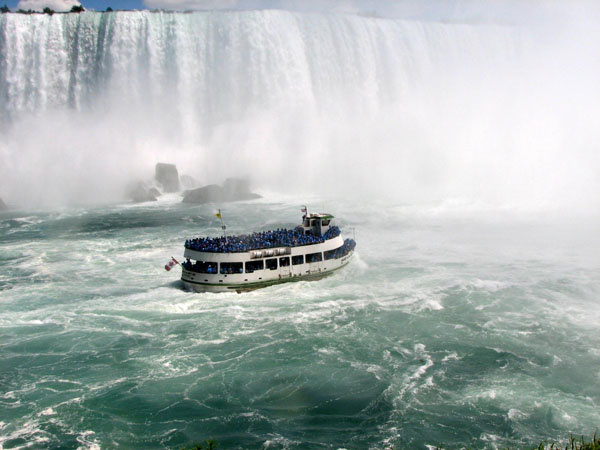 NIAGARA FALLS
In the morning after breakfast, get started on the Niagara Falls Tour. See the best of the American side of the fall as you enjoy a boat ride, explore a cave, visit an island and much more! Tour includes admission to the Maid-of-the-Mist boat ride and the Cave of the Winds, which offers breathtaking views of the American Falls from the "Hurricane Deck". The tour also includes Prospect Point Observation Tower and the Thunder Theatre for a 4D movie presentation of "Legends of Niagara." In the afternoon return to your hotel, checkout and be transferred to Buffalo Airport, from where you can board your flight back home.
GLORIOUS AMERICAN WEST COAST - 6 NIGHTS / 7 DAYS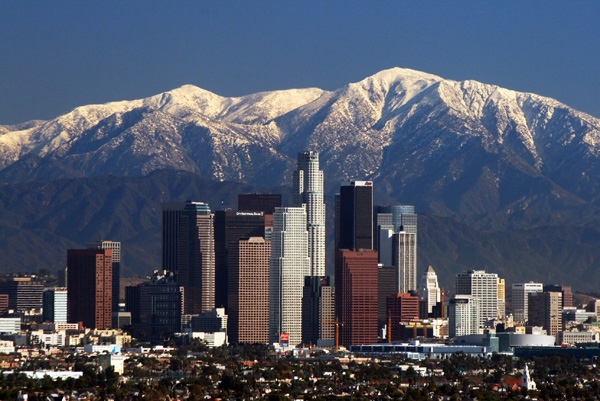 LOS ANGELES
On arrival at the Los Angeles International Airport, you'll be transferred to your hotel. After which you will spend rest of the day at leisure. Overnight at hotel.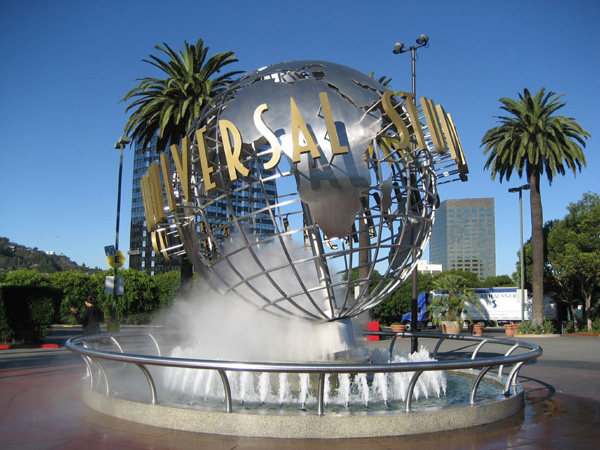 LOS ANGELES
Enjoy a sumptuous breakfast and then proceed on a full day Los Angeles City and Universal Studios combination tour. This tour takes you to the towering skyscrapers of Downtown Los Angeles and City Center. Here, you will see the Dorothy Chandler Pavilion, where the academy awards are held, Hollywood Bowl, world famous Chinese Theatre and the magnificent Hollywood Boulevard, where you will gaze at the Walk of Fame. At the Hollywood Boulevard, you'll view hundreds of foot and handprints of stars such as Marilyn Monroe, Eddie Murphy and many more.
Next you will cruise the Sunset Strip on your way to Beverly Hills and Bel Air. Here you will see a dazzling array of STARS' HOMES and well groomed parks, manicured gardens and Hillside Estates. Later proceed to Universal Studios. With no waiting to enter, you will embark on a guided tram ride for fun and thrills as you tour Hollywood's biggest movie studio. Overnight at hotel.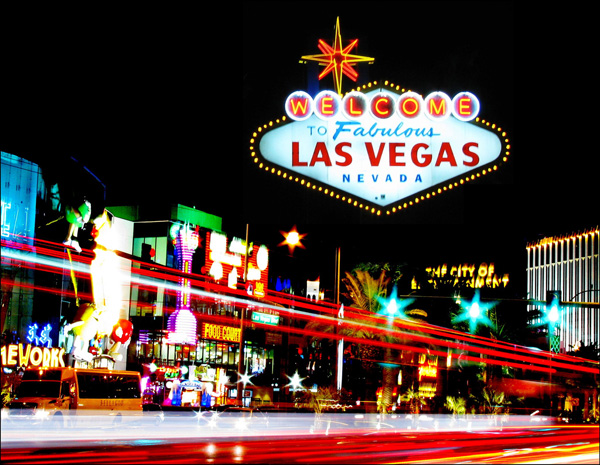 LOS ANGELES / LAS VEGAS
In the morning after breakfast, checkout of hotel and proceed to the bus terminal for your scheduled transfer to Las Vegas, the Casino capital of the world. On arrival, check into your hotel and spend rest of the day at leisure.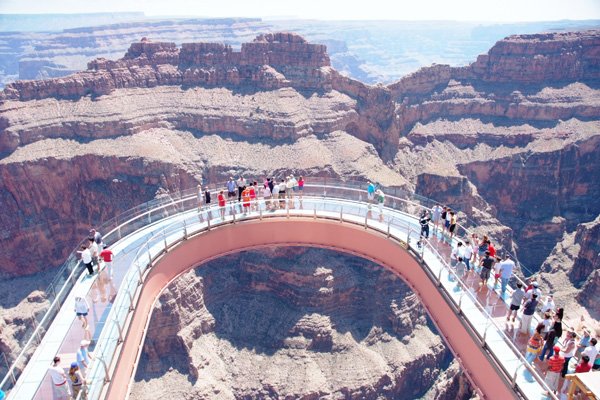 LAS VEGAS
Post breakfast, proceed on a full day tour by coach to one of the natural wonders of the world, the Grand Canyon. First photographed by Timothy O'Sullivan in 1871, the Grand Canyon is a geological wonder that continues to be captured by millions visiting the West Coast. But nothing substitutes seeing the Grand Canyon like seeing it in person. Your coach, 'Gray Line' stops at the most popular viewing areas including Mather Point and the Bright Angel Lodge. After crossing Hoover Dam where a photo stop is made, your driver/guide will entertain you with a historical narration of the area's Spanish Explorers and the early Western Settlers as you drive through Arizona. A delicious lunch is included. Return to your hotel in the evening. Overnight at hotel.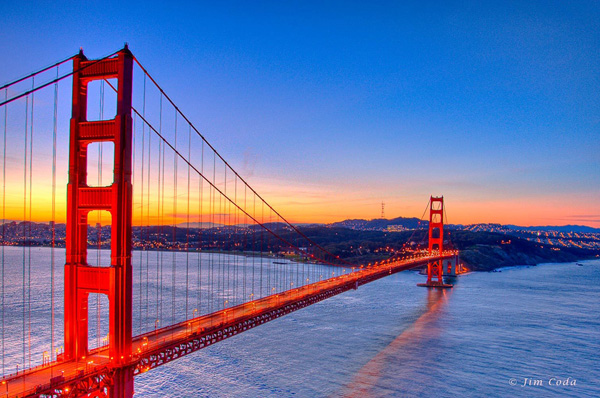 LAS VEGAS/SAN FRANCISCO
After a delightful breakfast, checkout of hotel for transfer to airport where you will board your flight to San Francisco or known as 'Frisco' by the locals. On arrival at San Francisco Airport, you'll be transferred to your hotel. The afternoon City Tour will highlight famous landmarks and familiarize you with the unique sociology of San Francisco. Scheduled stops include Vista Point at the Golden Gate Bridge, the panoramic view of the city from atop Twin Peaks and other photo opportunities recommended by your driver-guide. From past to present and from the hills to the shiny sea, San Francisco will fill you with the most memorable experience you've ever imagined.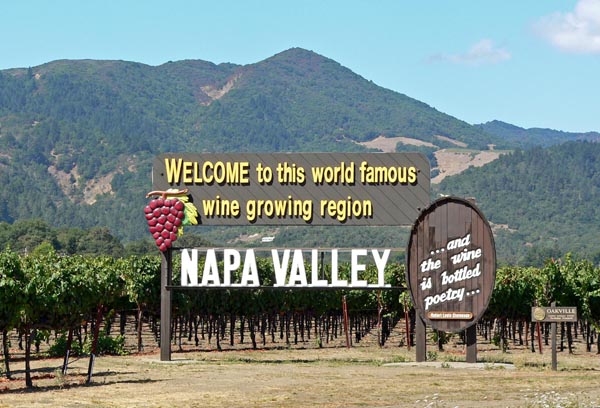 SAN FRANCISCO
After breakfast, proceed on a Wine Country tour. Enjoy spectacular views as you drive through California's famous premium wine producing region. Visit wineries in both Sonoma and Napa Valleys. Enjoy a glass of sparkling wine while overlooking the Domaine Carneros estates's gorgeous views. Additional tastings will be provided at Viansa Winery, Italian Marketplace, and Kirkland Ranch Winery. Stroll, shop, lunch and relax at Vintage 1870, a converted historic 130 year old winery with 36 specialty shops and art galleries. Additional wine tasting will be added if time permits. Return and spend the night in the comforts of your hotel.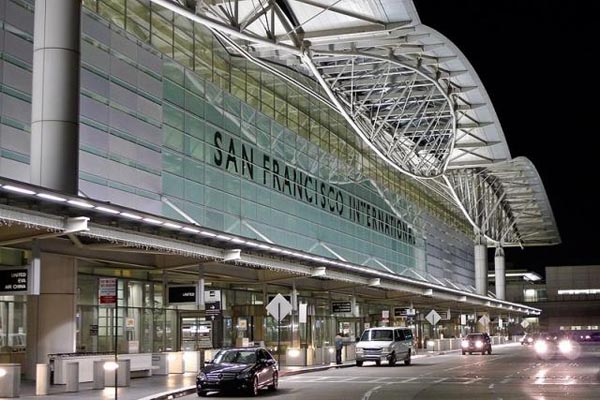 SAN FRANCISCO
This is your last day on the West Coast. Post breakfast, check-out of your hotel for transfer to the San Francisco International Airport from where you can board your flight to another destination or back home.