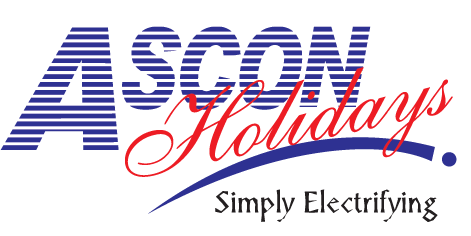 Malaysia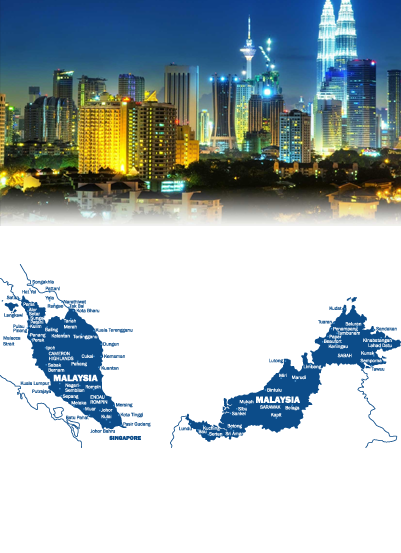 MALAYSIAM is like two-countries-in-one and cleaved in half by the South China Sea - Peninsular Malaysia and Borneo. The multicultural country flaunts Malay, Chinese and Indian influences as well as ethnic tribes. Throughout these two regions is an impressive variety of microcosms ranging from the space-age high-rises of Kuala Lumpur to the smiling longhouse villages of Sarawak, a perfect amalgamation of modern-day cities and lush wilderness.
Peninsular Malaysia looks like a long finger of land extending south from Asia as if pointing towards Indonesia and Australia. Much of the peninsula is covered by dense jungle, particularly its mountainous, thinly populated northern half. On the western side of the peninsula there is a long, fertile plain running down to the sea, while on the eastern side, the mountains descend more steeply and the coast is fringed with sandy beaches. The other part of the country, comprising more than 50% of its area, is Malaysian Borneo – the northern part of the island of Borneo.
Despite all the pockets of ethnicities, religions, landscapes and the sometimes great distances between them, the beauty of Malaysia lies in the fusion of all cultures, ethnicities, religion and cuisine into a country that is one of the safest, most stable and manageable in Southeast Asia.
TREASURES OF MALAYSIA - 13 NIGHTS 14 DAYS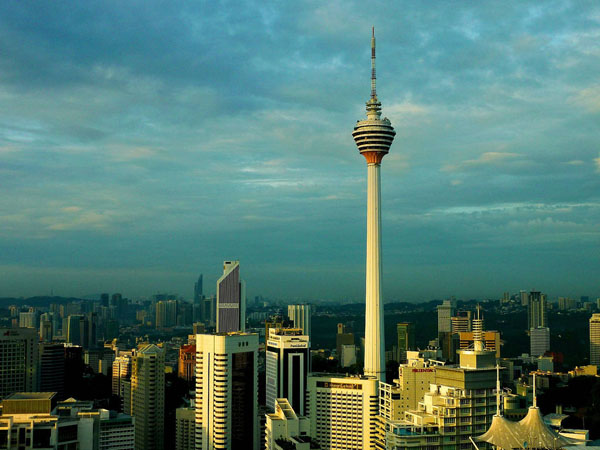 ARRIVAL IN KUALA LUMPUR
On day one of your holiday in Malaysia, you'll be met at the airport by our representative before being transferred to your hotel in Kuala Lumpur. After checking-in, your holiday in Malaysia will begin by exploring the city. Only a short distance from your hotel, you'll find the lively 'Petaling Street'. This area is excellent for long strolls through small side streets and alleyways. A few top attractions you don't want to miss during your stay are the one of the world's highest twin towers- the Petronas Towers, the neo-colonial Anglo-Moor style train station and the hyper modern Masjid Negara-mosque. Kuala Lumpur also offers quite a lot to travellers with an affinity for western culture, from fast food restaurants to large air conditioned shopping malls, suitable for endless shopping sprees.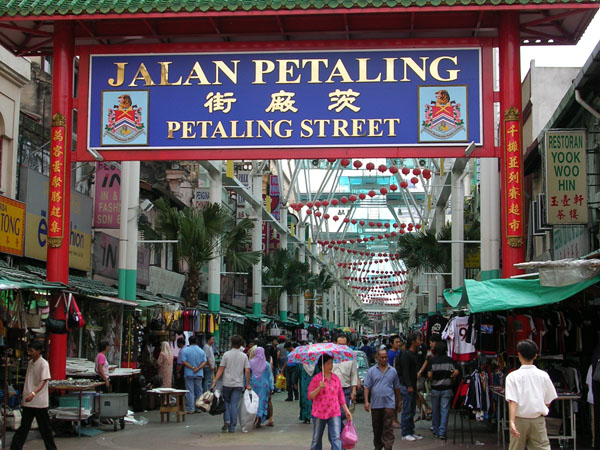 KUALA LUMPUR
After breakfast, you can head into the city on foot, by taxi or on the monorail. There are also hop-on/hop-off buses which you can take that go around all of Kuala Lumpur's main attractions. Head to the KL tower (the 4th tallest TV tower in the world), just before sunset, as you will be able to see the city lights and the Petronas Twin Towers, all lit up. The advantage of visiting the KL Tower instead of the Petronas Twin Towers is that there is no queue and it offers the best view of the Petronas Towers that Kuala Lumpur has to offer. Afterwards you can grab some dinner for which Kuala Lumpur has plenty to offer the traveler.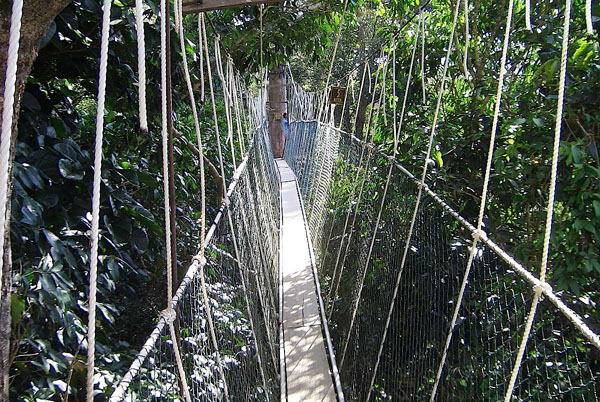 KUALA LUMPUR – TAMAN NEGARA NATIONAL PARK
You'll be taken from Chinatown at eight a.m to the small village of Kuala Tembeling, approximately a three hour bus ride. At the port office of Kuala Tembeling you'll be asked to fill in your personal details for your pass to the Taman Negara National Park. You'll need to pay a small extra fee to use your camera during your time in the park (RM5). It's best to pack just the essentials including an insect repellent in a medium sized suitcase or a backpack for the next two days of your Malaysia jungle trip, as this is all you will need while you are in the jungle. If required, you can leave the rest of your luggage in safe storage at the office at Kuala Tembeling. Next you'll step onto a wooden jungle boat for a jungle trip along the Sungai Tembeling river, past densely overgrown river banks. After about three hours you'll moor at the jetty of your resort in Kuala Tahan, where you can spend the rest of your day exploring around your hotel or on one of the many nature trails.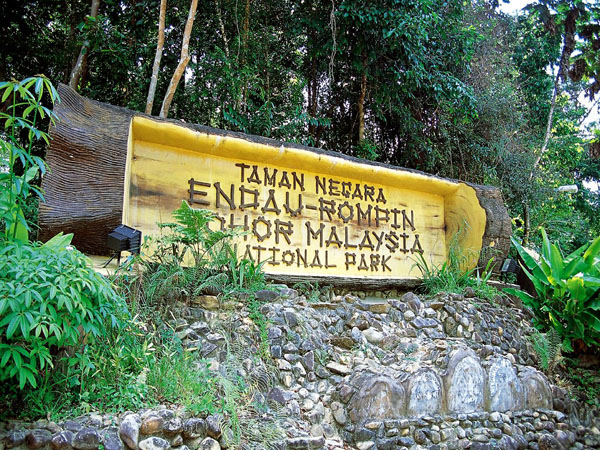 TAMAN NEGARA NATIONAL PARK
Enjoy a leisurely breakfast in the hotel restaurant, before heading out for the day's activities. 'Canopy Walk' is an absolute highlight of any jungle trip to Taman Negara. You will take a guided Malaysian canopy tour, across a suspending walkway that twists through the jungle treetops. From 30ft up, you'll get a completely different perspective of the rainforest around you. The walk takes around 3 hours, so in the afternoon you can relax back at the resort and recover from the tropical heat and exercise. If you like, you can choose to book a rafting trip locally or visit a local village of the Orang Asli tribe, Malaysia's indigenous inhabitants. Make sure you book ahead at reception when you check in at your hotel. In the evening you will take a guided jungle night safari tour around the resort in search of a variety of nocturnal animals and insects hiding along the jungle's floor, a real highlight of your holiday to Malaysia.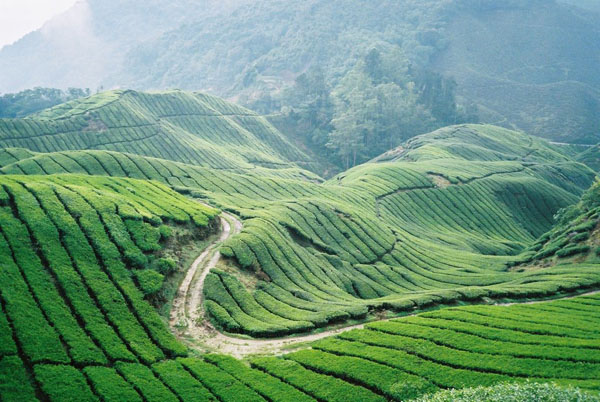 TAMAN NEGARA - CAMERON HIGHLANDS
After breakfast it's time to bid farewell to the jungle and cross the river where you'll find your driver waiting to take you to Cameron Highlands, the next destination on your itinerary. As soon as you start to get higher up the hills, you'll notice that the temperature begins to drop and tropical vegetation soon makes way for endless hills covered in lush green tea plants. Towards the end of the afternoon you'll arrive in the small town of Tanah Rata where you'll find your characteristic hotel in British colonial style.
In the evening you can either enjoy dinner at your hotel, or go into town to check out the many tasty dining options there. Try a 'Steam Boot', a type of Cantonese fondue at a restaurant called Mayflower. The town has a large Indian population so you'll also find lots of excellent curry houses here.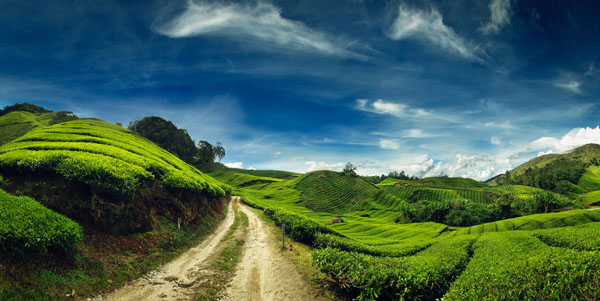 CAMERON HIGHLANDS
After breakfast you will be picked up at the hotel by our local guide and continue your Cameron highlands trip. Depending on the weather, you'll drive to the tea plantations where you'll be told all about the history of the plantations and the surrounding area.
You will be then taken to a viewpoint where you can (if the weather is clear) admire the views across the green, rolling hills. On the way back you'll go on a short walk through the jungle of 'Mossy Forest'. The path can be slippery in places so make sure you wear sturdy shoes or boots. Soon, you'll probably fancy a Cuppa, so following a winding road downhill, you'll head back to the tea plantations and the most famous tea factory in the area, the Boh Tea Estate (closed on Mondays). You'll then be taken on a guided short tour of the tea processing plant; showing you how the freshly picked tea leaves are processed into the more familiar brown brew. This factory produces enough tea for 5.5 million cups a day and no less than 4 million kg of tea per year. If you're in the Cameron Highlands on a Monday, you'll visit a local strawberry farm instead. After lunch you'll drive back to Tanah Rata, stopping off at the 'Butterfly Farm', (an additional RM5/- to be paid locally.), a bit touristy, but still worth a visit. Inside the covered flower garden you can walk around among the hundreds of delicate, colorful butterflies fluttering above your head. There are also dozens of cabinets displaying the largest and most unusual insects in the area.
After your visit to the 'Butterfly Farm' you will be dropped off at your hotel. If you want to see more of the surrounding scenery you can follow one of the local nature trails around Tanah Rata. Later on, you could wander into town for some dinner in one of the restaurants in Tanah Rata. If you fancy something a bit stronger after all that tea, grab a beer or a cocktail at one of the local restaurants or pubs.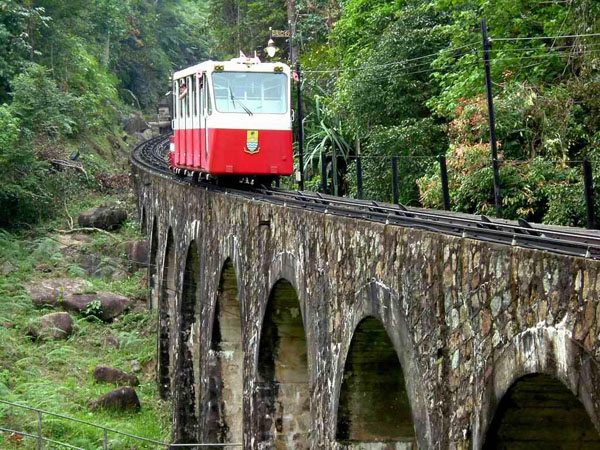 CAMERON HIGHLANDS - PENANG
After breakfast, you will be taken to the cultural island of Penang. Penang is a cultural melting pot and a culinary hotspot, even for the local Malaysians. The typical 'Nyonya' cuisine is a delicious mix of Chinese and Malaysian influences. Whilst, we're on the subject of food, we definitely recommend having a quick bite at one of the local food stalls. You'll find quite a few at the 'Datuk Keramat Hawker Centre', which is also known as 'Padang Brown'. You'll often find night markets taking place here as well. Post this little sojourn, you can retire for the night at your hotel.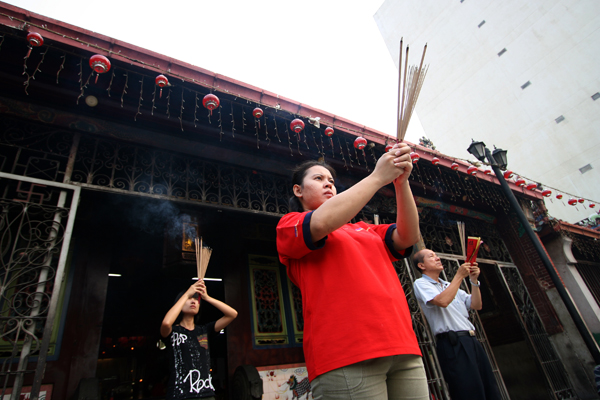 PENANG
On the second day of your Penang trip, you'll be picked up at the hotel after your breakfast by 9 am. You will be taken on a sightseeing trip with highlights of Georgetown, including Fort Cornwallis and the Goddess of Mercy Temple. (A small entrance fee for the Fort will need to be paid locally if you would like to go inside.) Early afternoon you'll be dropped off at the hotel where you can spend the rest of the day relaxing. The next day you can explore more of the island. In the heart of Georgetown is 'Gurney Drive' a very famous hawker's square looking out over the sea and known across all of Malaysia for its' authentic Malaysian cuisine, including dishes such as "Asam Laksa", a salty sour fish soup.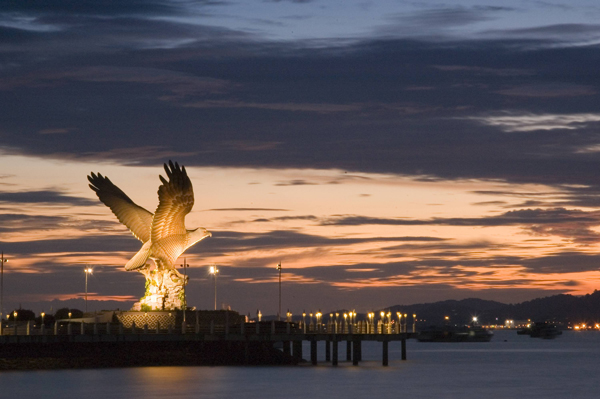 PENANG - LANGKAWI
After breakfast, you'll head out early in the morning to Penang's harbour and go on a two hour boat ride to Langkawi. You'll then check into your hotel which also organizes jungle tours, morning and evening cruises, snorkeling, kayaking, fishing trips and boat rides to nearby tropical islands. A truly wonderful restaurant with an equally amazing view and delicious cuisine (fusion) is 'Bon Ton Restaurant', located slightly north of Pantai Cenang. It may mean taking a taxi ride to get there, but its well worth the trip. During your stay on the island, head north (from Kuah enroute to Padang Lalang) and spend an evening in 'Barn Thai' which is idyllically located in a stretch of mangrove forest.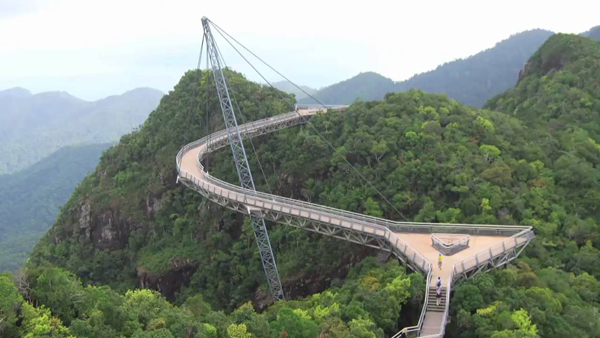 LANGKAWI - FREE TIME
You can spend these three days chilling out on the beach, but if you want to do something a little more active during your holiday to Malaysia, there's plenty to do on the beach or in the water such as, Catamaran sailing or Kayaking. Further inland you can take a cable car to the top of the 'Gunung Mat Chingchang', the second highest mountain on Langkawi, rising up from the dense green rainforest.
If you want to discover Malaysian sea life without getting wet, visit the aptly named Underwater World in Pantai Cenang, one of the largest aquariums in Asia. You can also take a snorkeling trip to one of the nearby islands, visit one of the museums or go hiking to the hot springs of 'Telaga Air Hangat'. For a real thrill on this holiday in Malaysia, try an 'air trekking experience' (approximately £25), a challenging track high above the ground. If you'd like to find out more about this, just ask your hotel staff.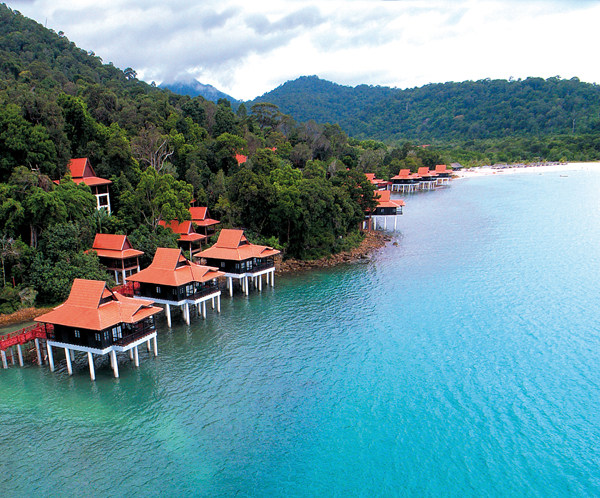 LANGKAWI - KUALA LUMPUR - DEPARTURE
This is your last day of your stay in astonishing Malaysia. You'll be picked up at your hotel and taken to Langkawi Airport for your flight to Kuala Lumpur. From where you'll take a connecting flight home.